​
 Step by step guide to buying a house
Are you thinking about buying a house but don't know where to start?  Confused by the process, or what the costs might be?  Not sure if you will need a solicitor or legal advice?
Don't worry – we've create the ultimate guide to buying a house with absolutely everything you could ever need to know!
Jump to the relevant sections below or read through the whole guide from start to finish – the choice is yours.
What are the pros of buying a house?
How long should you prepare to buy a house?
Can you afford to buy the house? Or should you rent it?
How much can I afford to borrow?
What to look for when buying a house
Legal work – hire a conveyancer
They say the best investment you'll ever make is in bricks and mortar. As one of the few big purchases that appreciates rather than depreciates, buying a house offers security in the long term.
Of course, it's also a long-term commitment. With the average UK mortgage term lasting 25 years, it's important to consider not only your funds, but your career commitments, family plans and those with whom you wish to share the home. So, what's in it for you?
What are the pros of buying a house?
Buying your first home might sound daunting on paper. With renting, there's the convenience of knowing exactly how much you'll pay out each month (subject to your landlord's terms), and you won't need a large deposit. You're also not liable to pay for reasonable repairs, for example a broken boiler.
However, renting is what we like to call a "sunk cost". Once that money's gone, you'll never see its value – it's effectively like paying an ongoing bill.
With a mortgage, you know that every payment you make takes you one step closer to owning your home outright. Plus, you can sell up and will very likely make a gain on your investment. The average UK house price rises by 2.2 % per year meaning you can put even more towards your next deposit.
Beyond the financial investment, there are also the following perks to owning your own home:
Total freedom – your home is yours to redecorate, extend or house pets
Your own tangible asset – your home is now part of your 'estate', which can be passed on to loved ones
Long-term security – there's no danger of the landlord unexpectedly selling. It's yours to use as you wish, whether that's starting a family or advancing in your career
Car and employment perks – some car insurers reward the security of home ownership, while this may also look appealing to employers, who will see you as a long-term asset
Retirement benefits – there are equity schemes for homeowners to fund your retirement.
How long should you prepare to buy a house?
Taking this next step in your life will require lots of preparation – not just financially, but mentally! It's a long road which will likely be full of hiccups, solicitor back-and-forth and other headaches. But we promise it will be worth it.
The whole process can take up to six months, including finding a home, making an offer and dealing with legalities. Of course, this may take longer depending on the housing market, and doesn't factor in your financial preparation.
What is the best way to go about buying a house?
Before you start looking, ask yourself the following:
Have I saved up enough for a deposit? Some lenders will accept a 5% deposit, but your monthly repayments will be higher. Be prepared to pay at least 10% upfront. Look at the general house prices in your area and be realistic with your requirements.
The Help to Buy scheme sadly closed to new buyers in November 2019, but there are other ways you can get government help.
Am I ready to settle in this area? If you're well-grounded into your career, or want to raise children near local schools, you're probably ready to settle. Do your homework if you're moving somewhere new, however. Consider the commutes, schools, doctors' surgeries, shops and crime rates.
Who am I buying with? Some say that buying a house together is more of a commitment than a marriage! It may be awkward to broach, but make sure you're both ready to commit if you're in a relationship. If it's a friend or family member, it's best if you've lived with them before and/or have solid evidence of good financial records.
​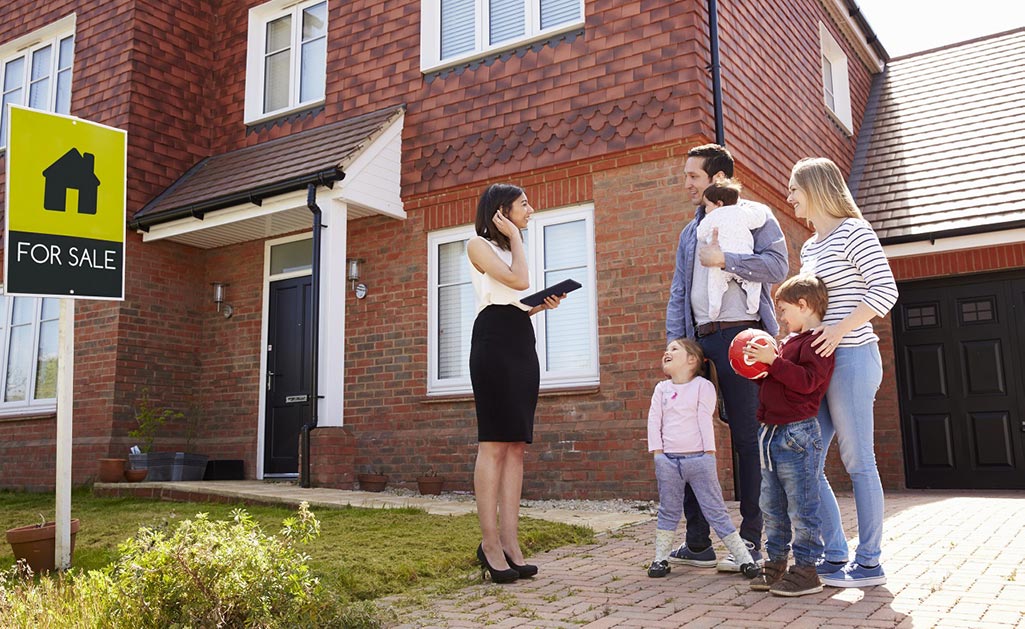 How many houses do you look at before buying?
So, you've raised the funds, done your homework and are ready to start looking. Before you start browsing those estate agent sites, ask friends and family for a reliable mortgage broker.
Choose the wrong one and you could risk losing thousands of pounds – for example, if they recommend a tracker mortgage in times of economic instability.
You should view a minimum of two or three homes. Do not view more than four houses in a day. You'll become exhausted and forget the smaller details. If you can, try to stick to the same estate agent for a more consistent view.
Always view the house a second time before you put in an offer. You'll need a mortgage in principle (see below).
Can you afford to buy the house? Or should you rent it?
If you're a first-time home buyer, there are a whole lot of calculations to make before you commit. You'll need to consider the length of your mortgage terms, fluctuating interest rates, and how much you can afford to borrow.
What kind of credit score do you need to buy a house?
One of the first things a potential lender will look at is your debt to income ratio. While your credit score will show details of your payment history, for example mobile phone bills or car lease payments, a debt to income ratio for mortgage applicants looks at your income as well.
Lenders will calculate a percentage of how much of your income (e.g. salary and any benefits) goes towards paying off existing debts. Ideally, you should aim for a ratio of 45% or lower.
Likewise, try to tidy up your credit rating. Clear off old debts and even consider taking out an affordable credit card to build up your score. Big no-nos are things like County Court Judgements or Individual Voluntary Arrangements. You may have to wait up to six years for these to clear from your record.
Loan to value ratio
Another consideration lenders make is what's known as a loan to value ratio. They will use an LTV calculator to determine the risk of lending to you:
LTV = (Amount owed on the loan/appraised value of asset) x 100.
Let's say you bought a £300,000 house with a £50,000 deposit. Your loan amount would be £250,000, so the ratio is: (£250,000/£300,000) x 100 = 83.3%.
Many things can affect the LTV. It's generally favourable to have a higher deposit, while the market can also have an impact. For example, if the house value goes up, this will lower the LTV long-term. If your LTV comes out at more than 100%, you may be considered higher risk.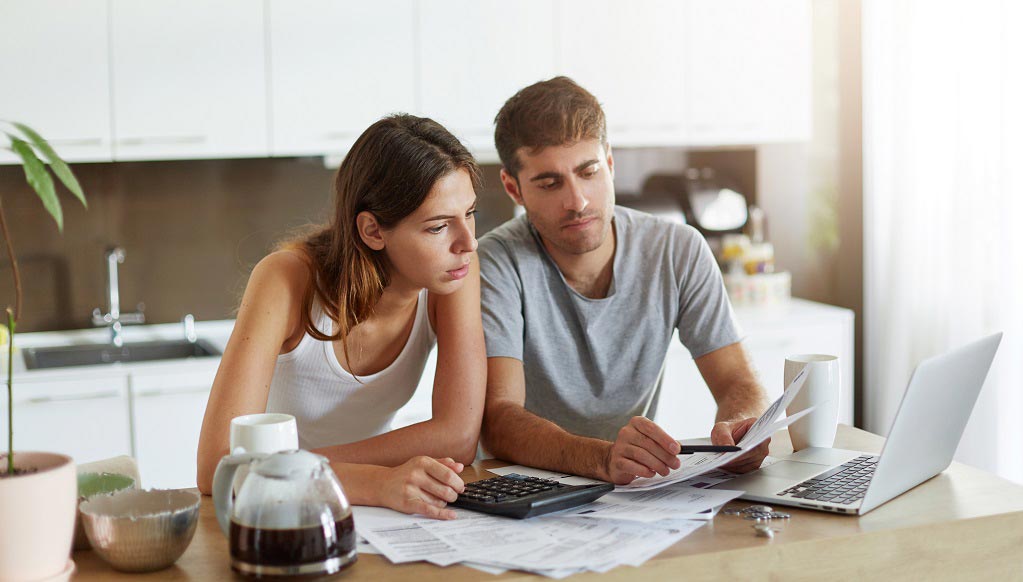 ​

So, how much can I afford to borrow?

Things have changed a lot since the financial crisis. Previously, lenders would look at your household income and offer up to five times this, for example – £250,000 if your income was £50,000.

Now, they have to undertake an affordability assessment, which will not only look at all of the above, but any changes to your lifestyle, such as plans to start a family. You can discuss all of this with your mortgage broker.
Advantages and disadvantages of owning a home
If you're not quite ready to meet these strict requirements, it may be better to rent in the short term. You'll need to consider your job history, saving for a deposit, the current markets and interest rate, plus your mortgage term. Have a look at this table to guide your decision.
Renting
Buying
Advantages

Cheap deposit: one month's rent
Refundable deposit
Free repairs
Fixed costs
More lenient credit checks
Easy to leave contract without selling

Long-term security
Added equity
Freedom to make amendments
Asset to leave to loved ones
Potentially lower monthly payments
Lower insurance

Disadvantages

No equity – paying forever
Less freedom to make amendments
Potential selling/price increases from landlord
No assets for retirement

Large deposit needed, 5-20%
Additional costs e.g. stamp duty and solicitors' fees
Maintenance is your responsibility
Stricter credit checks
What happens if I don't have a down payment for a house?
In this instance, it may be better to continue renting while you build up your capital for a deposit. Very few lenders will offer a 100% deposit – for reasons like the financial crisis, among others – but some offer alternatives.
Can I buy a house with no deposit?
If you've not got the funds for a deposit but are keen to own, you could try one of these alternatives:
Shared ownership – this means you take out a mortgage for a share of a house, and pay rent on the rest of it.
Right to buy – this scheme is available for council and housing association residents, who can buy their homes at a significant discount.
Finding the right place to live
Location, location, location – it's one of the biggest dealbreakers for making an offer on a house. Be prepared to put in the groundwork. They say it's best to buy the worst house on the best road, but what does this mean
What to look for when buying a house
Property type
Are you willing to pay more for the quietness of a detached house, or do you think residents would benefit from a bungalow? Consider who's living there and for how long.
Local amenities
Do you have or want to start a family? Look at local schools, Ofsted reports, surgery and dentist waiting lists, local shops and larger supermarkets.
Getting around
Are there good public transport connections if you need them? What are traffic levels like? Can you picture yourself walking to work/school or biking?
Crime rates
Does this area have a history of crime? Is it safe to raise children? You can view local crime maps for added assurance. Bear in mind this may also affect insurance.
Flood risk and developments
Is the home on a flood plain or is there any history of flooding? Also look at local planning applications/disputes – there could be new housing or retail developments planned which may affect your quality of living.
Other things to look for when buying a house
You can also get extra assurance by asking your estate agent. Don't forget to consider things like:
How long the house has been on the market
If there have been any renovations
Energy ratings
Visiting the house during the day and night
Ability to sell in future.
Making an offer
So, you're satisfied with the area and you're ready to make an offer on the house. What next?
You'll need a mortgage in principle, which is a formal agreement from a lender that you are eligible to borrow a certain amount of money. Note this is not a mortgage in itself, rather a hypothetical offer – you'll need to seal the deal with your lender (see below).
Offer letter for house
In theory, you could call your estate agent and make them an offer over the phone. But do you really want to win over the seller? Consider a property offer letter. These are more personal and will lay out your intentions for the house, giving you a chance to 'butter up' the seller and, more importantly, show them you're serious about buying. It could just help you stand out!
Don't be afraid to offer lower than the asking price
Keep in mind that your home offer doesn't just cover the house price alone. You also need to consider solicitors' and estate agents' fees, stamp duty and any renovations. Even if you can negotiate £2,000 off, this could all help with fees – great if the buyer needs a quick sale.
Look at other houses in the area
One of the top things to know when buying a house is the state of the market. Has the house been up for sale for long? Did other houses sell for cheaper? You can use estate agent search engines for reference, all of which will give you negotiating powers.
Know what you're getting
One of the most overlooked home buying tips is the house's contents. Be sure to ask the seller directly what fixtures and fittings come with the house. You don't want to be caught out when making an offer, only to discover there are no light switches!
What happens if the seller doesn't accept my offer?
Don't forget – the seller does not have to reply to your offer. They can accept it, ignore it, reject it or give you a counteroffer. Speak to your estate agent and consider terms with the seller – for example, guaranteeing they will take it off the market, or accepting to make repairs.
Avoid gazumping and gazanging
Gazumping and gazanging – hard to spell, and even harder to overcome! Both refer to the dishonourable act of pulling out of a house purchase before exchange – but it can be the buyer or the seller.
What is gazumping?
This is when a seller accepts your offer, only to be offered a higher price by another buyer, and reject yours. It's very bad form, but unfortunately, it's not illegal in England or Wales.
Once an offer is accepted on a house, can someone else make an offer?
Unfortunately, yes – and it can happen to houses with high demand. Strictly speaking, the contract does not become legally binding until you've exchanged.
Is gazumping legal in Scotland?
Though not illegal in Scotland, it's far less common here as the binding contracts take much less time to complete. Anything can happen between accepting an offer and exchanging, so to avoid gazumping, consider:
Getting a mortgage in principle
Organising a conveyancing solicitor in advance
Asking for the house to come off the market with your offer
Paying a small holding deposit
Checking your estate agents' gazumping policy.
What is gazanging?
Gazanging is when a seller pulls out of a house sale after accepting an offer. This is their prerogative, of course, but you can minimise the chances of this by choosing an efficient, reliable lawyer.
Mortgage arrangement
Once you're ready to make a serious offer, it's time to sort your mortgage in principle. As above, this is affected by a number of factors, so be prepared to offer up a lot of paperwork including bank statements, proof of income and evidence of ongoing payments.
Finding the cheapest mortgage rates
The best way to do this is to shop around. Don't be fooled into thinking you can only go with your bank – there will be many high street lenders, and lesser-known ones, willing to give you a better deal.
Don't overlook interest rates either – with an average mortgage term of 25 years, 5% as opposed to 3% makes a real difference. So, which type of mortgage is best for you?
Repayment mortgage
This is a broad term for all mortgages including fixed or variable, but does not apply to interest-only mortgages. A repayment mortgage involves putting down a deposit and then paying back a set amount each month for however many years there are in the term. These come in three formats:
Fixed mortgage – fixed mortgage rates stay the same every month for a set amount of time. For example, you might take out a 30-year fixed mortgage, but could be offered the chance to re-mortgage without fees after two years. These are great for when interest rates are low and unlikely to fluctuate.
Variable rate mortgage – these rates fluctuate based on the Standard Variable Rate at which the lender has made the loan. Your monthly payments could change for better or worse depending on your bank.
Tracker mortgage – these are based on the Bank of England's base rate, so your monthly payments will change based on interest rates. Be cautious if times are unstable!
Interest-only mortgage
Unlike repayment mortgages, where you pay towards the full cost of the house, an interest-only mortgage only covers the interest payments over a set period. These are great if you're short of funds in the short term, but remember, you'll have to pay off the whole value of the house once the payment term is up.
Second home mortgage
These are largely the same as repayment mortgages, but you'll need to pay an extra 3% in stamp duty, and the minimum deposit required is much higher – usually 25%. These are ideal for landlords, but be mindful of all the extra costs.
Valuation – nipping issues in the bud
The last thing you want is for your home to be repossessed to cover the cost of unforeseen repairs. When you make an offer, you'll be given a choice of valuation surveys, to check for structural issues and any necessary repairs. These include:
The Homebuyer Report – basic checks for damp and structural problems on good-condition properties
The Building Survey – this highlights any potential issues, and is ideal for older properties.
For best results, use an independent surveyor – they'll give you an unbiased view, and can cost anywhere from £150 to £1,500.
Legal work – hire a conveyancer
The main difference between a conveyancer and a solicitor is training. A conveyancer acts as an intermediary between you, the mortgage lender and the seller, and is legally trained in the transfer of real estate.
A conveyancing solicitor, meanwhile, may be more of a generalist – only some will have licensed conveyancer training. For the proper handling of land registry, stamp duty and transferring funds, our recommended conveyancing solicitors can help.
Ask Optimal Solicitors for:
A dedicated professional team to handle your case
House insurance advice
Competitive pricing – use our conveyancing cost calculator here
Guarantees if a sale falls through.
​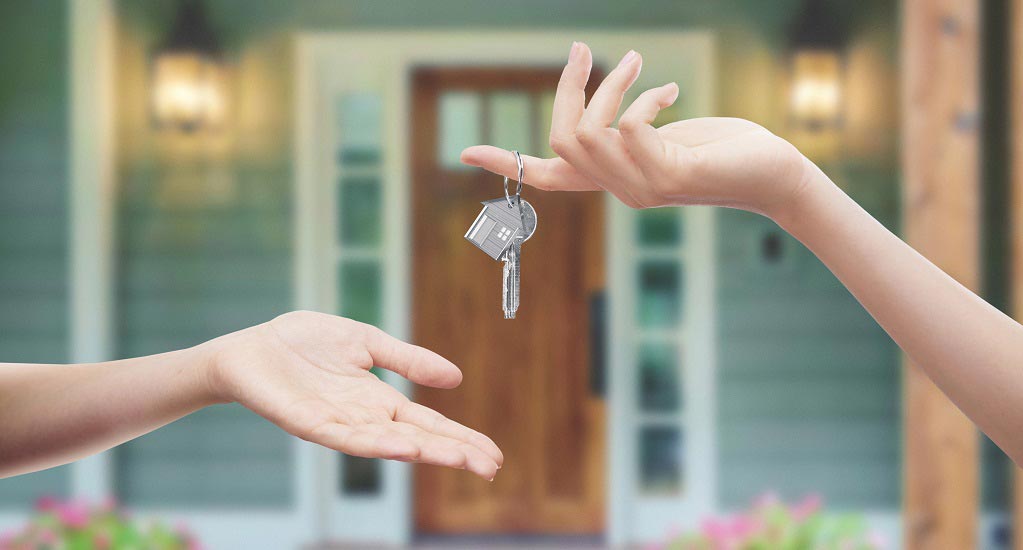 Completion
Once your exchange of contracts is arranged, it's time to name a 'completion' date – this is the day you'll move in. It's one of the most exciting and stressful stages of buying a house. On this day:
The seller must vacate the property
The buyer must pay stamp duty
The buyer must pay solicitor/conveyancer fees, including an owner registration – usually £2-£300.
On house buying completion, your lender will be transferring money to the solicitor for the house purchase. Then you'll start paying monthly mortgage payments as agreed with your lender.
Is 2020 a good year to buy a house?
Buying a house in the UK is a fantastic opportunity right now. With interest rates hitting record lows in March 2020, it's a great time to borrow. Be mindful that this may balance out in 2021, with house prices going up.