​ As the way we work continues to change due to COVID-19, both employers and employees recognise the need and value of flexible working practices.
Prior to COVID-19, workplace attitudes towards flexible working practices differed. Some businesses have been practising flexible working for years, whereas others still stuck to old habits of offices based '9 to 5' working hours. The global pandemic accelerated many workforces to bring forth flexible working practices by allowing their employees to work when, where, and how best suits the type of work they are doing.
Here at Optimal Solicitors, we believe that flexibility is good for business and we have adopted a flexible working environment to cater to our employees' work-life balance. So, what are the benefits of flexible working – and what types of working practices will dominate post-pandemic?
What is Flexible Working? 
Flexible working is an alternative to traditional-working hours. Some flexible working practices include working from home or flexi-time. Whether it's part-time working, job sharing, working from home, hot desking or even choosing your own hours, flexible working helps put people first.
It focuses on the needs of individual employees, rather than a general consensus. Allowing employees, the option to work more convenient hours and conditions, lets your employees know that you are looking after their well-being and gives them a voice to be heard, which, in turn, benefit the company.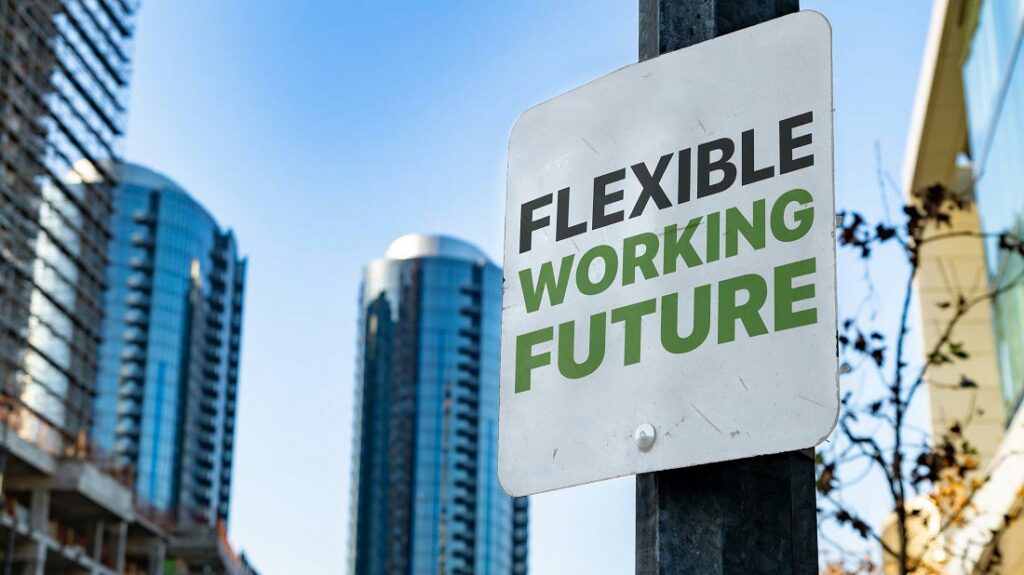 A Brief History of Flexible Working 
For decades, the '9 to 5' working pattern has controlled how employees alter their daily lives. Regardless of someone's commute, schedule, medical conditions, or whether they have any appointments, employees have devotedly clocked in at 9 am and packed up for the day around 5 pm.
Originally associated with parents and carers who needed to adapt work around their responsibilities, flexible working has been around for years. Flexible working is now understood to mean more flexibility around day-to-day activities; like part-time work, reduced hours, flexi-time, and work from home.
Since COVID-19, many companies have been evolving their working structures. For Generation Z and young millennials, flexible working is considered as a trendy bonus. For older generations of the workforce, it's a much-needed relief in the whirlwind of managing family and work commitments. with work ones. Whether you're an employee or employer, it's important to understand why flexible working practices are quickly becoming the norm and how it can be rewarding.
Types of Flexible Working 
As mentioned above, flexible working can involve a number of different options for employees besides working from home and flexi-time. There are several other types of flexible working arrangements companies could choose to offer. These include:
Flexi-time: Flexi-time is where an employee can choose the times they start and finish their working day. Usually, companies outline 'core hours' (such as 10am to 4 pm) with the flexibility provided outside of those core hours.
Working from home: Working from home tends to form a large part of today's flexible working policies. It involves employees working remotely for either all or portion of their working week. Even when offering to work from home policies, it's common for employers to have an office that all employees can use. However, many employers are shifting away from offices and have decided to rent workspaces for their employees to use as an alternative.
Remote working: Remote working lets employees work outside of the office. They can live and work anywhere. Many companies don't allow their employees to live abroad, but many allow more flexibility for their employees.
Condensed hours: Employees can cover their standard working hours in fewer working days, e.g., four-10 hours days, with Friday off – to total a 40-hour working week.
Job sharing: Two part-time workers share one full-time job by splitting the workload. Benefits and pay are shared in proportion to the hours each employee works.
Part-time hours: Part-time working is where an employee is contracted to work less than the standard full-time hours. For example, this could involve just working 3 out of 5 days a week.
Many businesses will be more familiar with these as a result of the pandemic. Not only have employees have been forced to work from home; but some companies have also allowed workers to adopt a more flexible schedule. Businesses have been able to extend their working hours by having employees work at different times of day.
Did you know? 
We asked our employees to vote on a remote working poll, it highlighted that 44% of employees want to work from home five days a week once the pandemic subsides. 52% of employees want a combination of office and home working, but only 3% of employees want to work solely in office.
5 Benefits of Flexible Working 
Although flexible working has the power to be more suitable to employees' work-life balance, many employers still seem to be in the dark about the benefits it can offer their organisation.
Here's a list of benefits surrounding flexible working for employees.
The Benefits for Employees
Whether it is working from home or job sharing, there are many benefits that employees can gain from the ability to choose a more flexible schedule, including:
1) It can attract more candidates
Offering flexible working arrangements can be a huge benefit for applicants seeking new jobs. It can demonstrate that you are a liberal and open-minded organisation, and you are willing to listen and accommodate employees' needs and responsibilities. Attracting a wider selection of candidates can also lead to having a more skilled, talented, and diverse workforce.
At Optimal Solicitors, we are proud to support flexibility in the workplace. Currently, the majority of our staff work remotely due to COVID-19 and sticking to key working from home guidelines. However, as a company, we are adopting a flexible working practice to allow our employees to work from their desired locations. We found that flexible working not only fits our employee's lifestyle, but has also allowed us to access and bring on-board excellent talent that would have previously be considered unsuitable for our organisation due to location.
2) It can help retain talent
Working in an office doesn't always cater to employees who are constantly juggling different priorities – many individuals need to care for their children, look after dependents or study while working. Offering flexible working might help you retain your skilled staff who were thinking of leaving because they are unable to work standard hours, start at the time expected, or factor in a lengthy commute.
The law legal sector is not traditionally the most flexible, but at Optimal Solicitors, we love to challenge the norm. Workplace flexibility can appear in various forms and does require a high-level of trust between senior management and team members. Currently, we have members of staff who are satisfied that we offer flexible working practices.
3) It can be cost-efficient
Many companies might need to scale up in building and/or office sizes as their teams grow, but it may be appropriate to get some people working from home, either on a full-time or part-time basis, to avoid having to get a bigger office space. Some employees would appreciate saving costs on lengthy commutes, especially in the evenings.
We utilise technology and modern working practices to develop and change the way our business operates on a daily basis. Reducing traditional law firm overheads such as office space, stationary, postage allows us to invest in technology to improve the employee and client experience.
4) It can reduce absence and sickness issues
Having an off-balance personal and professional life can lead to stress and unplanned absences. Helping employees achieve a better work-life balance can help improve their health and well-being. Factoring in that many people have appointments to attend that could take a short as 30 minutes, may have to take a morning or afternoon off just to attend.
Modern living led us to recognise that many skilled professionals cannot commit to a traditional 9-5 role. Since 2018, we have enabled our staff to choose their working hours to suit their lifestyle. We also offer flexibility to attend appointments which can't be arranged outside of working hours.
At Optimal Solicitors, we continue to do our bit to remove obstacles by extending our flexibility to now include location of work.
5) It increases productivity
Regularly, people have a misunderstanding that because an employee is working from home or working part-time, they may be less committed to their job. Allowing someone some flexibility is built on trust, which can lead to an increased sense of loyalty and a desire to go that extra mile.
We extended our flexible working practices due to COVID-19 and this has positively helped our company grow. We maintain that the traditional '9 to 5' routine merely doesn't relate anymore with a comfortable, supportive, and productive working environment.
Are you wanting to reassess your employee's working circumstances? At Optimal Solicitors, we have always offered a flexible working arrangement for our employees. For further information on changing terms of employment, please contact our Employment team on 0161 250 7771 or email info@optimalsolicitors.com
​